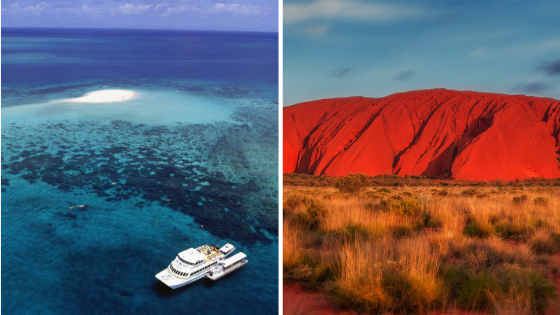 Glittering topaz seas, diverse landscapes and unbeatable attractions to top off any royal bucket list – Australia is truly a destination for the ages. Brimming from end to end with an abundance of natural wonders, lush wildlife, glossy metropolises, romantic beaches and of course, massive expanses of outback country, this is a landmass with enough adventures to daze even the most well-traveled wanderers. Australia attracts millions of tourists every year and you don't have to look far to see why – from incredible sightseeing and tasty cuisine to fantastic underwater escapades and cultural highlights, there really is nothing you can't find here.
The Great Smoky Mountains National Park is one of the biggest treasures of Tennessee. Home to more than 187,000 acres of forest and more than 800 miles of hiking trails. This park that stretches across two states and encompasses more than 520,000 acres is a true gem. A hikers and wildlife lovers paradise, it is the most visited National Park in America with more than 11 million yearly visitors. If you love wildlife, forests and history the Smoky Mountains are for you, and there is no better time to visit than the summer months.
California has some amazing National Parks that protect some of the most diverse and beautiful places in the country. Home to eight National Parks and many more national historic sites that protect marine life, mountains, deep valleys, sand dunes, desert, redwood trees, volcanoes and miles of wilderness.
Lassen Volcanic is one of 8 California National Parks 
Yosemite, Joshua Tree and Death Valley are perhaps the most well known California parks but one of my personal favorites is Lassen Volcanic National Park. Located just south of the border with Oregon on California's North Eastern Corner.  Lassen is a vibrant and mesmerizing park, full of volcanoes that have shaped a colorful and rugged landscape, dotted with glacier lakes, beautiful forest, hot springs and incredible hiking. ​
The Channel Islands are an island chain located off the Southern California Coastline. The national park consists of 5 islands spread across 160 miles of ocean, reachable only by boat or seaplane. Their isolation has left them almost totally undeveloped, offering beautiful landscapes, nature and tranquility. One of the least visited parks in the US, if you are wanting to explore sea caves, glimpse at jutting rock cliffs and sea nature you can't anywhere else, plan a visit to Channel Islands National Park.
To Angelenos Joshua Tree is a mystical expanse of desert. Worshipped as a place to escape the noise and busyness of the movie capital. Leaving the deodorant, the hair brush and the worries far away. It is a place loved by rock climbers, star gazers, hikers, the spiritual, the hippie, the motorcycler and the off roader. So many people from so many different walks of life love this desert preserve that protects thousands of acres of diverse desert landscape. Many people don't see the magical sides of this park, but I for one have drank the Koolaid and here are some of the beautiful things you can see if you take the time to explore this National Park.