​Lazy, hazy holidays are made for rest and relaxation, as well as fun and frolicking. And while vacations should be carefree, you can also travel in a way that's kinder to the environment by making sure you reduce your carbon footprint while you're away.
​Here are 4 smart ways you can be greener on the go: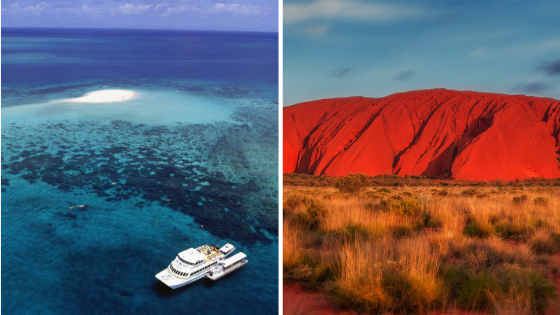 Glittering topaz seas, diverse landscapes and unbeatable attractions to top off any royal bucket list – Australia is truly a destination for the ages. Brimming from end to end with an abundance of natural wonders, lush wildlife, glossy metropolises, romantic beaches and of course, massive expanses of outback country, this is a landmass with enough adventures to daze even the most well-traveled wanderers. Australia attracts millions of tourists every year and you don't have to look far to see why – from incredible sightseeing and tasty cuisine to fantastic underwater escapades and cultural highlights, there really is nothing you can't find here.
The Great Smoky Mountains National Park is one of the biggest treasures of Tennessee. Home to more than 187,000 acres of forest and more than 800 miles of hiking trails. This park that stretches across two states and encompasses more than 520,000 acres is a true gem. A hikers and wildlife lovers paradise, it is the most visited National Park in America with more than 11 million yearly visitors. If you love wildlife, forests and history the Smoky Mountains are for you, and there is no better time to visit than the summer months.
People love the Caribbean all year round with its beautiful beaches, cool evening breezes, poolside cocktails and its ability to leave us feeling utterly relaxed and disconnected from our lives at home. I should know, I lived in the Bahamas for close to a year working at the mega resort Atlantis on Paradise Island in Nassau. And no matter how stressed or upset I ever was, as soon as that plane touched Bahamian air space a smile and sense of elation would sweep over my body. While winter may be the most popular time to visit this area of the world, summer offers great savings, and while the temperatures may be warmer it can still be a great time to visit. A lover of the Caribbean I have yet to visit all of its wonderful and unique islands, so I teamed up with some of the best Caribbean experts and put together this list of the best and most sustainable places to visit in summer that won't leave you sweltering.
What do you really know about the State of Georgia? Many people may be familiar with a few of its famous historical figures, rappers, actors and musicians but what else do you know about the Peach State? Here are some fun facts and finds about the State of Georgia.