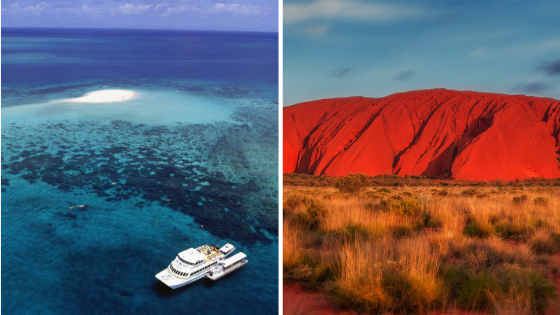 Glittering topaz seas, diverse landscapes and unbeatable attractions to top off any royal bucket list – Australia is truly a destination for the ages. Brimming from end to end with an abundance of natural wonders, lush wildlife, glossy metropolises, romantic beaches and of course, massive expanses of outback country, this is a landmass with enough adventures to daze even the most well-traveled wanderers. Australia attracts millions of tourists every year and you don't have to look far to see why – from incredible sightseeing and tasty cuisine to fantastic underwater escapades and cultural highlights, there really is nothing you can't find here.
Curious, exciting and endlessly beautiful – Australia is paradise for thrill seekers and adventure lovers alike. Looking to plunge into a memorable holiday here? Well then load up on your 
travel necessities
 and check out these three unmissable adventures to try in Australia before you leave.
Alice & A Green Sea Turtle
1. Scuba diving in the Great Barrier Reef
This is one of the most ethereal sights you'll see in Australia, and one of my best memories from visiting Australia. Scuba dive here to discover 2300 km of pristine coral life and underwater beauty like nowhere else on the planet. The Great Barrier Reef is made up of about 3000 smaller reef systems, coral cays and hundreds of gorgeous tropical islands with shimmering carpets of golden sand waiting to be explored. Countless species of vibrant tropical fish swarm all around the reef, along with stunning marine creatures such as turtles, eels and even sharks. The reef is also a celebrated UNESCO World Heritage site, thanks to the incredible variety of sea life that depend on it for survival. Besides scuba diving, you can also view the reef from a glass-bottomed boat, take an educational tour and even go whale watching.
Photo by Filipe Dos Santos Mendes on Unsplash
2.  Skydiving at Mission Beach
What better way to get your blood pumping than by throwing yourself off a plane that's 15,000 feet in the air? Skydiving at Mission Beach is an unbelievable experience that will leave you craving for another go as soon as you hit the ground. Mission Beach is one of Australia's most popular skydiving destinations, promising views and thrills you'll never forget. You'll be guided at every step of the way by professional skydivers as you plummet down at speeds over 200 km an hour, admiring some of the loveliest views the world has to offer. As you scream your way down, you'll get to soak in views of dazzling white beaches, exquisite islands, blue-green stretches of rainforest and even the Great Barrier Reef itself.
Photo by Quentin Grignet on Unsplash
3. Climbing the Sydney Harbor Bridge
The Sydney Harbor Bridge and the Opera House nearby are two of Australia's most iconic destinations. Climb the Harbor Bridge for a birds-eye view of the glamorous city below and to score a truly vivid once-in-a-lifetime experience. The top of the bridge stands 440 feet above the sea level – the perfect height to capture a stunning picture for Instagram while admiring one of the world's busiest cities. The climb up is fairly simple, with hundreds of people reaching the top every day. You won't be allowed to take your camera or phone with you due to safety concerns, but no worries – your guide will be ready with a camera to snap perfect pictures of your group on the go, and take more pictures of you at the top.
Photo by Jason H on Unsplash
4. Camping at Uluru
Australia's unforgettable Ayers Rock aka Uluru is part of a cultural landscape in the Northern Territory of Australia. Sacred to the Aboriginals the massive red sandstone monolith is one of the top things to see in Australia. Located within the Uluru- Kata Tjutu National Park, the best way to experience the rock drawings, hiking, biking and cultural experiences is by camping. Just imagine waking up to the sun rising over the red sandstone monolith as you make your morning coffee.
For Email Marketing you can trust.